Students, alumni, and donors share their stories of impact—stories that exemplify what it means to embody the Spectrum Center's commitment to accessibility, collaboration, and student leadership. These stories also spotlight the growth of U-M and the Center, and their shared commitment to Michigan's LGBTQ+ students.
Planned Gift Creates Two Scholarships At The Spectrum Center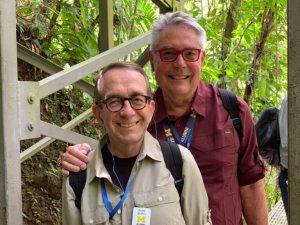 When Kenneth Hillenburg (MS '86) and Alan Burg made the decision to make a bequest to the University of Michigan, their goal was to give back to the school that brought them together some 38 years ago.
Hillenburg, a retired periodontist, and Burg, a retired school administrator, started in increments: They spent five years helping to organize and relaunch the U-M LGBTQ Alumni Association with the help of the Spectrum Center, making monthly contributions to keep operations running smoothly. This impactful endeavor inspired them to continue giving.
Read the full story on Leaders & Best